We are still migrating content to our new website. Looking for document or information that you can not find here, please go to the old website.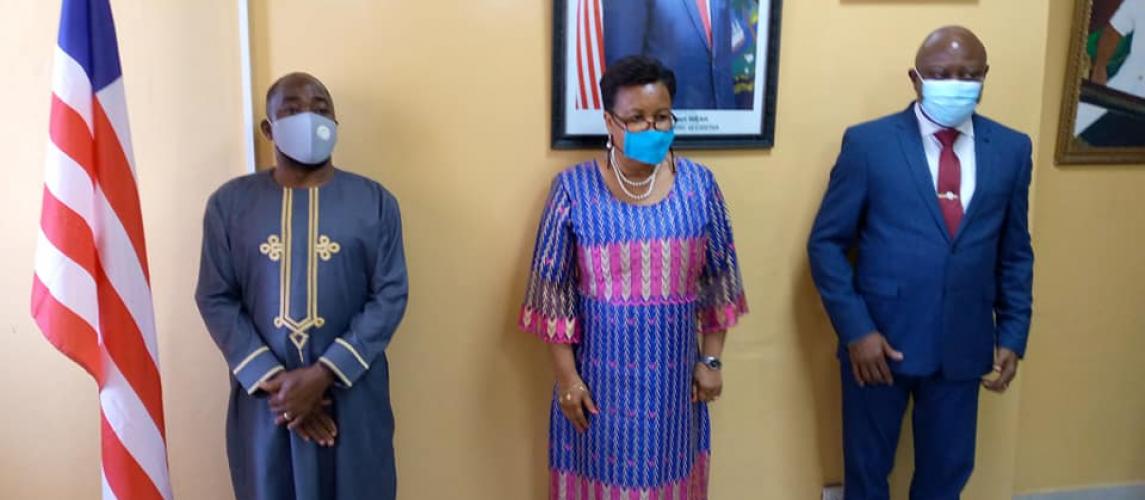 AfricaRice Assures Liberia Of Support In Rice Varieties Planting Techniques
(Monrovia, December 4, 2020): - Formerly West Africa Rice Development Association (WARDA) but now renamed AfricaRice Center has promised to assist Liberian farmers with new and improved scientific methods in planting varieties of rice across the country.
AfricaRice's Director General, Dr. Harold Roy-Macauley of Sierra Leone, conveyed the assurance on Friday at the Ministry of Foreign Affairs in Monrovia when the 28-member states body signed an agreement with the Government of Liberia.
Liberian Government signed a Host Country Agreement with AfricaRice granting it diplomatic status and country office's presence to support Liberia's rice development program.
AfricaRice says it is "a pan-African Center of Excellence for rice research, development and capacity building…improving livelihoods of farmers and other rice value-chain actors in Africa by increasing the productivity and profitability of rice-based agri-food systems…"
"Liberia played an important role in the founding of WARDA and still plays such a role in AfricaRice now. Rice is also a strategic product in this country and many countries in Africa as well. We will be here to support you in developing the rice sector", Director General Roy-Macauley said.
He praised Agriculture Minister, Jeanine Milly Cooper and her Cabinet colleague, Foreign Minister Dee-Maxwell Saah Kemayah, Sr., for accelerating discussions that led to the agreement signing after the organization initially proffered it three years ago.
Both Ministers and their select lieutenants participated in the brief ceremony.
Minister Cooper serves on AfricaRice Council of Ministers, the highest decision-making body.
"This new and formal engagement with AfricaRice is the first step in getting rice right in Liberia which is of priority for His Excellency President George Manneh Weah", said Minister Cooper.
The agreement will enable AfricaRice to be fully official in Liberia. Up to Friday's signing ceremony, the multilateral body has been engaged in low-scale project implementation activities at Central Africa Research Institute (CARI) in Bong with agriculture research.
Established in 1971 in Dakar, Senegal where Liberia was among the 11 original signatories, WARDA's Headquarters was opened in Monrovia in 1972 and remained operational up to 1990 when the country's decade and half civil war flamed.
WARDA has been shifting its headquarters, since then, from Liberia to Cote D'Ivoire, to Benin and then back to Cote D'Ivoire where it is currently stationed. 
A pride of Liberia as Foreign Minister Kemayah described AfricaRice.
Minister Kemayah said, "Liberia is now stable and peaceful. We urge AfricaRice to consider the Liberian Government's request to return its headquarters to Monrovia".
Benin, Burkina Faso, Cameroon, Central African Republic, Chad, Côte d'Ivoire, D R Congo, Egypt, Ethiopia, Gabon, The Gambia, Ghana, Guinea, Guinea-Bissau, Kenya, Liberia, Madagascar, Mali, Mauritania, Mozambique, Niger, Nigeria, Republic of Congo, Rwanda, Senegal, Sierra Leone, Togo and Uganda are member states of AfricaRice.